Avis de décès » Clarence Monaghan (en anglais)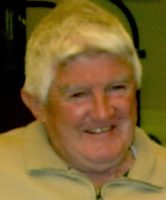 1942 - 2023
Share your Memorial with Family & Friends
It is with great sorrow that we announce the passing of Clarence Monaghan at the age of 81, on October 17th, 2023, surrounded by family and friends (Joan and Pat Sheehan) at Saint-Bridgid's home in Quebec City.
He will be missed by his children Glenn and Deborah, grandchildren, John Patrick (Daphne), Owen, and Drew, and his beautiful great granddaughter Macey. He was predeceased by his wife the late Doreen McKinley, late father Patrick Monaghan, his late mother Ella (nee O'Connor), his late brothers James (Carol) and late Lorne (Colleen), and his brother-in-law the late Ivan McKinley.
He will also be missed by his brothers and sister in law Steven (Danny), Eric (Cid), and Nancy (Robert).
A Private ceremony and interement will be held at a later date at the Saint Gabriel's Parish.
Donations can be made to the Canadian Cancer Society.
https://cancer.ca
For information: phone : 418-845-6161, fax: 418-845-8920, mail : salonfuneraire@videotron.ca
Guestbook
Celebrate Clarence's life with a short message, photo or video!

Ajoutez Une Sympathie