Avis de décès » Gilbert Lévesque (en anglais)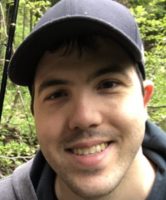 1989 - 2023
Share your Memorial with Family & Friends
On November 2nd, 2023, at the Quebec Heart and Lung Institute, Mr. Gilbert Lévesque, spouse of Andria Power, son of Huguette Gilbert and André Lévesque, passed away at the age of 34.
The family will receive condolences in the presence of the ashes at the
Réjean Hamel & Filles Funeral Residence Inc.
11 384, boul. Valcartier
Loretteville (Quebec) G2A 2M6;
Sunday, November 19, 2023, from 1 p.m. to 4:30 p.m. and will be followed by a tribute by the family. A gathering will take place on the second floor of Pub Galway (1112 Av. Cartier) starting at 5:30 p.m.; reservation under the name Andria Power.
He will be dearly missed by his loving partner: Andria Power; his children: Emmy and Elliot; and his brother, Francis Lévesque and his parents: Huguette Gilbert and André Lévesque.
For information: phone: 418-845-6161, fax: 418-845-8920, email: salonfuneraire@videotron.ca
Guestbook
Celebrate Gilbert's life with a short message, photo or video!
Gilbert does not have any posts. Be the first to add one