Avis de décès » Norman (Nuchem) Silverberg ( en anglais)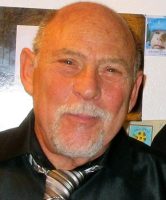 1942 - 2022
Share your Memorial with Family & Friends
On the 7th of June 2022, at the age of 79, Mister Norman Silverberg passed away at the Hôtel-Dieu-de-Lévis. Born in Montreal he was the son of the late Misses Fanny(Faigle  Laznik) and of the late Mister Benny (Berl Srebrnagora) Silverberg. Norman  resided in Quebec City.
The family will receive condolences in the presence of the ashes at
Réjean Hamel Funeral Home Inc.
6161, du Pomerol Street
Saint-Emile (Quebec) G3E 1X3,
On Saturday July 9th 2022 from 9:00 to 2:30, and will be followed by testimonials on behalf of friends and relatives in the parlour. You are invited to share your memories with those present.
He leaves to mourn his children in-law: Ian Lavoie-Neilson (Karine Pomerleau) and Magalie Lavoie-Neilson (Elie Savard); his grandson in-law: Alexis Savard; his brother David (Yvette Masse); his nephews: Alexis et Daniel Silverberg as well as numerous collaborators from the oceanography community of Quebec and of LaPaz, BCS, Mexico and friends.
We wish to thank the CRIC of Lévis as well as the surgical and palliative departments of the Hôtel-Dieu of Lévis
Remembrances may be made in the form of a donation to the Canadian Cancer Society 1040, avenue Belvédère, office 214, Québec (Québec) G1S3G3, tél. : 1 800-268-8874, téléc. : 418 780-2091, E-mail : info@quebec.cancer.ca, Website : www.cancer.ca.
For informaton : Phone : 418-845-6161, Fax : 418-845-8920, Mail : salonfuneraire@videotron.ca
Guestbook
Celebrate Norman (Nuchem)'s life with a short message, photo or video!
Norman (Nuchem) does not have any posts. Be the first to add one